Introducing our collection of luxury royal gins. Our Buckingham Palace Dry Gin has a unique royal origin, with many of its citrus and herbal notes sourced from botanicals gathered in the Buckingham Palace Gardens. For a unique and intense fruit flavour, try Buckingham Palace Sloe Gin, made using sloe berries steeped in our classic Buckingham Palace Dry Gin. Also available is the deliciously blush-pink Windsor Castle Pink Gin, infused with hand-picked raspberries from the Windsor Castle Estate.
Buckingham Palace Dry Gin
Lemon verbena, hawthorn berries and mulberry leaves are among the 12 botanicals hand-picked for this unique gin in the Gardens at Buckingham Palace, which span 16 hectares and provide a habitat for 30 species of bird and over 250 species of wild flower.
For the perfect refreshing drink, the recommended serving method is to pour a measure of the gin into an ice-filled short tumbler before topping up with tonic and garnishing with a slice of lemon.
Buckingham Palace Sloe Gin
Bursting with intense flavour and rich fruits, these hand picked whole sloe berries are the finest ingredient in our Buckingham Palace Sloe Gin.
The red fruits and notes of cloves and kirsch spices deliver a clean and medium aroma intensity on the nose. The plums and cranberries create a light ruby colour and combined with marzipan, it serves a medium sweet flavour with added bitterness from the citrus fruits and followed by the juniper and ginger spices. ​
---
Royal Windsor Pink Gin
Royal Windsor Pink Gin is spiced with piquant pink peppercorns and warming cassia bark, while orange peel and rose petal add a subtle sweetness. Hand-picked raspberries from the Windsor Castle Estate are then infused into the spirit, lending the gin a fruity finish and vibrant pink hue.
The gin pairs beautifully with ginger beer for a fiery twist on the classic Gin and Tonic. Garnish with fresh raspberries and orange peel.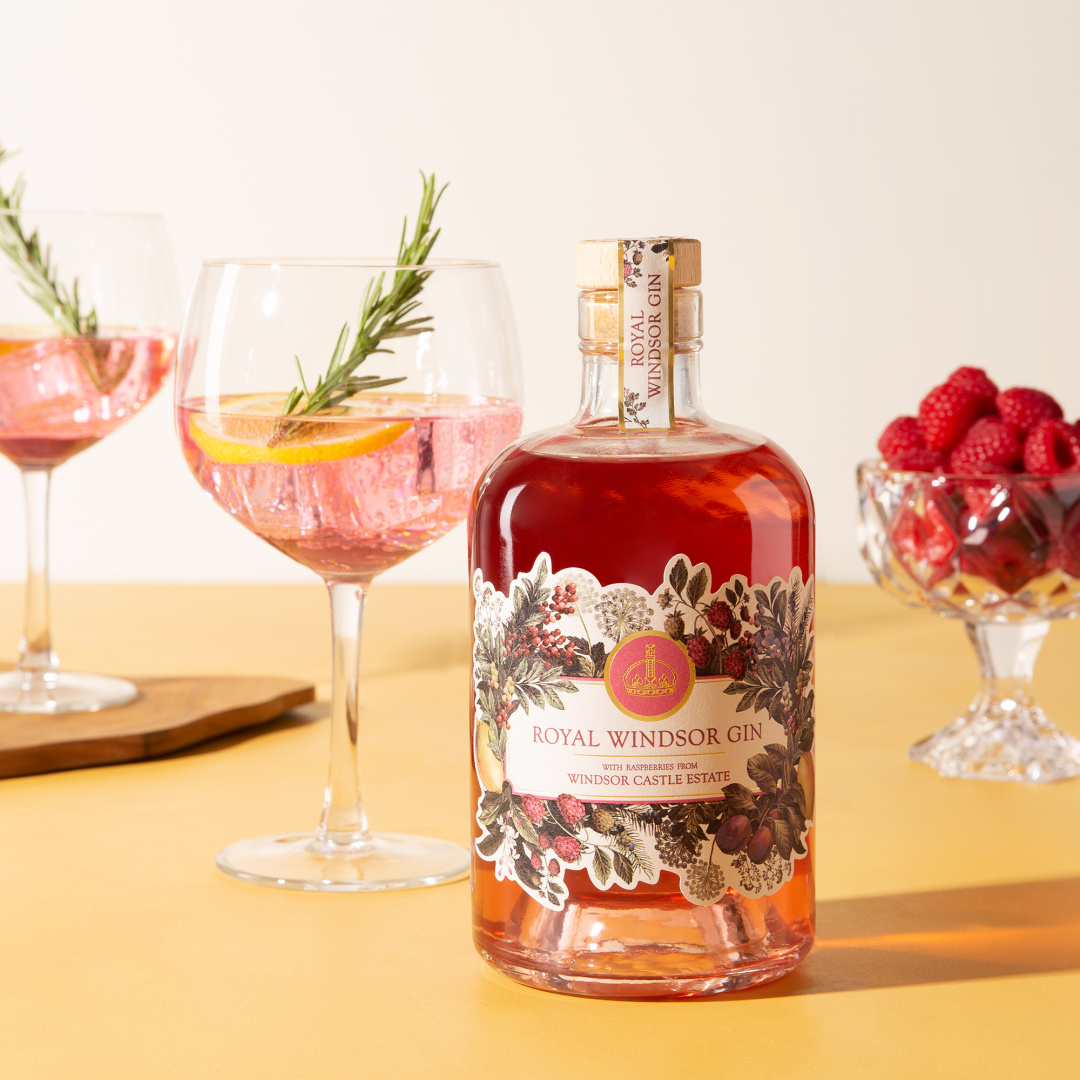 Impress your guests with this refreshing and sweet cocktail, the Sloe Royale.
Ingredients
25ml of Buckingham Palace Sloe Gin
Buckingham Palace Vintage Champagne
Orange Peel
Fresh Berries
Method
1. Pour a 25ml measure of Buckingham Palace Sloe gin into a fluted glass.
2. Top up with champagne or sparkling wine.
3. Garnish with orange peel or fresh berries. We suggest raspberries and blackberries.
---
Our Royal Gins
Discover our incredible selection of premium gins and champagnes to make the perfect cocktail.