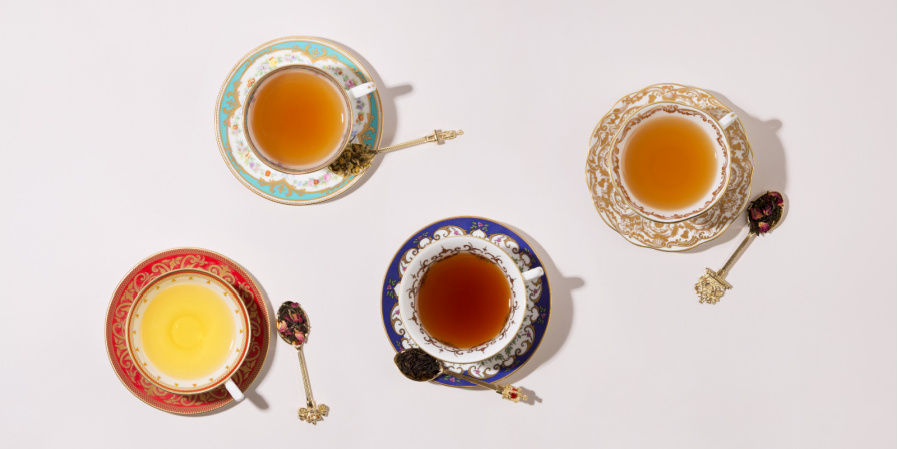 All you need to know about selecting a tea blend and preparing the perfect cup of tea. Become a tea expert with our tips on choosing the right blend, preparing your tea, and what to serve with your favourite blend.
Make the perfect cup of tea
Store tea in a cool, dark place away from strong odours. A tea caddy is ideal.

For the best results, we recommend using high quality loose leaf tea.

Always use freshly boiled water. For black tea, use water at 95-98 degrees centigrade. For green, white or oolong teas, use water which is just off the boil, around 80 degrees centigrade. You can achieve this by leaving the water for 3-5 minutes after the kettle has boiled.

Fine quality leaf teas always taste better when made in a teapot. Our top tip - make sure you warm the teapot first.

Water quality varies widely, and soft or hard water will make a tea taste different. It's best to experiment to find a tea that suits your water. Using a water filter will generally improve the quality of your drink.

Add one slightly heaped teaspoon of tea leaves per person, and infuse for at least three minutes. Of course, this varies depending on personal taste, and for a stronger flavour you might add an extra teaspoon 'for the pot'.

Adding milk last allows you to judge the correct amount.
Choosing a loose leaf tea
Whether it's a traditional Earl Grey or a light and balanced blend to enjoy with afternoon tea, find your perfect pairing in our selection of high quality loose leaf teas.
Royal Breakfast Blend
This classic breakfast tea was developed to be strong enough to be enjoyed alongside a classic English or Scottish breakfast but have the depth of flavour and smoothness for all day drinking. A smooth blend of the finest Indian and African teas results in an uplifting and full-flavoured cup of tea.
How to serve: Enjoy with breakfast or at any time of the day. Can be served with milk, but equally good with a slice of lemon, or just served black.
Royal Afternoon Blend
Delicate, light and balanced, this delightful blend of high quality Indian, Sri Lankan and Chinese teas is perfect for drinking in the afternoon. This tea was created as a lighter alternative to the Royal Breakfast Blend but with a similar fantastic flavour. This fragrant blend is ideally served with a classic afternoon tea with cucumber sandwiches, scones and all the works.
How to serve: Best served black with a slice of lemon or orange. Can be served with milk, but may be too light for some tastes served like this.
Darjeeling F.O.P.
Darjeeling is grown high in the foothills of the Himalayas, where the cool mountain air and ideal climatic conditions help to produce this iconic tea. Light, fragrant and delicious, this large Flowery Orange Pekoe leaf has a full floral character and the traditional Muscatel flavour of true Darjeeling. A delicious afternoon or evening tea.
How to serve: Generally we would suggest serving without milk, although some do like Darjeeling with milk.
Earl Grey
A traditional Earl Grey, using the finest quality black teas scented with the aroma of natural oil of Bergamot, extracted from the skin of the Bergamot Orange, a hybrid citrus fruit grown in the Mediterranean. As only natural Bergamot oil is used, this Earl Grey blend is very delicate and aromatic and good at any time of the day. It is a particularly good partner for smoked fish, for example smoked salmon.
How to serve: We recommend serving this light tea without milk. Whether or not to add a slice of citrus fruit is up to personal taste.
---
Shop Royal Tea
Our tea bags contain the same high quality large leaf teas as our royal tea caddies, and use biodegradable pyramid tea bags for optimum infusion. For a refreshing alternative, try one of our flavoured, fruit or herbal teas.