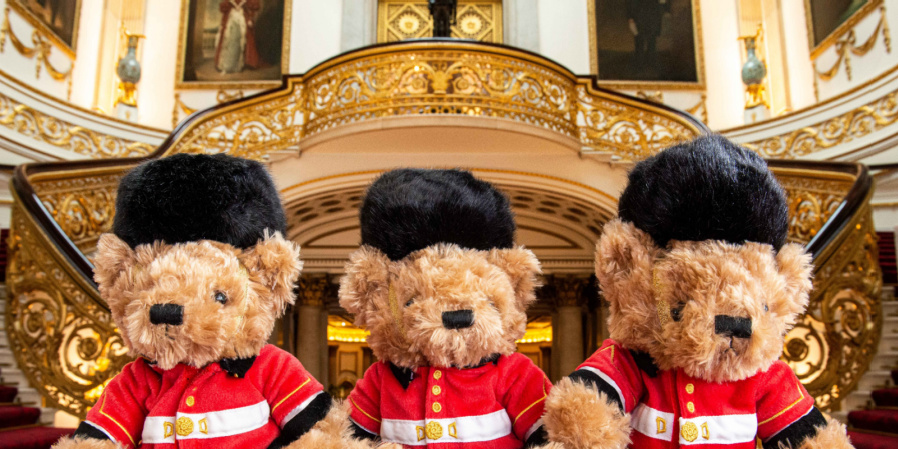 Explore souvenirs and magnificent gifts inspired by the British Royal Family and the iconic Royal residences including Buckingham Palace, Windsor Castle and Palace of Holyroodhouse. From an authentic range of classic souvenirs to branded stationery and charming teddy bears inspired by significant symbols of British culture.
Buckingham Palace
The London residence and administrative headquarters of Her Majesty The Queen, the site of Buckingham Palace can be traced back to the reign of James I in the early 17th century. This magnificent building has been the private home of Queen Charlotte, in the 18th century, and was then later developed and enlarged by Queen Victoria in the 19th century.
Today the Palace is the grand location of private Audiences, State Banquets, Garden Parties, Investitures and other sigificant occasions hosted by Queen Elizbeth and other members of the Royal Family.
Explore our collection of wonderful gifts inspired by this iconic residence. From fine bone English chinaware delicately decorated with the impressive façade to charming souvenirs featuring the smart uniform of the traditional guardsman.
Windsor Castle
Home to almost 1,000 years of royal history, Windsor Castle was originally built in the 11th century after the Norman invasion of England.
Positioned next to idyllic landscapes including the immediate area of the Home Park and the Long Walk, the castle grounds are also shared with St. George's chapel, a magnificent backdrop for some of the most significant royal events including the Order of the Garter, and royal weddings.
Enrich your knowledge of this premier royal residence with beautifuly illustrated books, published by the Royal Collection. Or display a glistening decoration on your Christmas tree inspired by the Round Tower.
Palace of Holyroodhouse
Palace of Holyroodhouse, the official Scottish royal residence of Queen Elizabeth, is picturesquely set in the heart of the city of Edinburgh.
Built in the 17th century, this palace holds the remarkable stories of turbulent history, conflict, marriage murder, and residents such as Mary, Queen of Scots and Bonnie Prince Charlie.
This Scottish residence is visited by Queen Elizabeth for one week a year at the start of every summer. During this week Investitures, Garden Parties and Audiences are held in the magnificent grounds.
Strong Scottish tradition and history has inspired our range of gifts. From Highland 12 year old single malt Scotch whisky and home linens crafted with the Scottish arms, to unique earthenware decorated with a design from a charge plate displayed in the Queen's Ante-Chamber.
---
Shop Royal Residences
Choose a keepsake or a token gift inspired by one of the magnificent royal residences.

---