Queen Victoria Limited Edition Music Box
Limited Edition
A limited edition of 50.
The design of this exclusive Limited Edition Musical Box is inspired by English fine bone china commissioned by Queen Victoria for the Great exhibition in 1851 and plays the tune 'God Save The Queen'.
Queen Victoria (1819-1901) succeeded to the throne aged 18 and reigned for 63 years over one of the most remarkable periods of growth, change and discovery, whilst the British Empire was at its peak. This Buckingham palace Enamel Box is manufactured by hand in England by Halcyon Days. Using traditional techniques unchanged for generation, every piece is finished in 22 carat gold.
Small, highly decorative, enamelled copper boxes first became popular in England in the 18th century, when they were used for carrying such commodities as snuff, black paper 'beauty spot' patches, and cachous to sweeten the breath. Their popularity diminished, and, by 1840, their production had ceased entirely. By the 20th century, these 18th century boxes became highly sought after collector's items. In 1970, Halcyon Days (established 1950) revived the tradition of enamelling on copper.
The manufacturing process used by Halcyon Days is similar to that used over 200 years ago, and is exceedingly labour intensive. To prepare the basic shapes, sheet copper is formed on a hand-operated press by a metal working craftsman, and then acid-washed to ensure perfect cleanliness and to provide a roughened surface for the adherence of the enamel. To form the enamel, glass particles are milled into a solution, and at least four coats are applied, each fired at 800c to build up a smooth enamel. A transfer of the design is applied by hand, and fired; then detailed hand painting begins, and the box is fired again on completion. The lid and base are then set into gold plated brass mounts.
Bearing Queen Victoria's cipher, this exquisitely detailed music box is a delight to behold, and the glass-covered interior allows for the intricate inner-workings to be truly appreciated.
5 x 8 x 9 cm.
UK - From £4.95
Europe - From £15
US and Canada - From £20
Rest of World - From £30
For full shipping rates, please click here.
Please note that orders shipped outside of the UK may incur customs charges. For more information, please click here.
Royal Collection Trust Shop offers free returns on all UK deliveries. Items must be returned with the sales invoice within 28 days of the purchase date. Due to hygiene reasons, pierced earrings and face coverings cannot be returned unless they are faulty.
For full details on returns, please click here.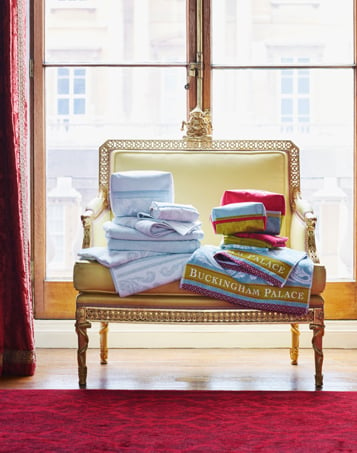 New Online Orders
Please be advised that due to unprecedented demand your order may take up to 28 days to process and deliver. If you are happy to proceed please continue with your purchase.